There is Light, There is Darkness...and there is that which is Greater than both
Book 1 of the 25 Time Award Winning First Souls Trilogy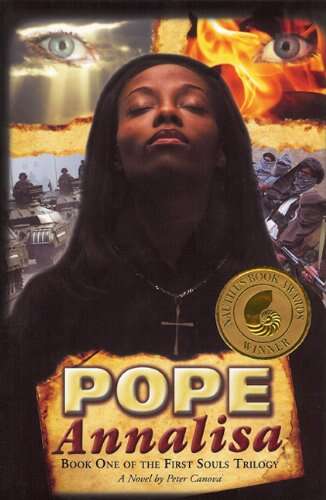 The beloved spiritual thriller of war, redemption, and transcendence is based on genuine Judeo-Christian texts suppressed for millennia and discovered in the Egyptian desert. The explosive contents completely revise the western religious beliefs that have shaped our lives for two thousand years. An incredible message of hope and the power of humanity to create a better destiny blaze through its pages revealing secrets of human origins, the nature of reality, and the mysteries of the creation itself.
A miracle-working back country African nun under investigation by the Catholic Church for her questionable abilities improbably rises to the papal throne in a powder keg world exploding in terrorism, economic struggle, and war. Loved by some, feared by many, the world begins to disintegrate after her rise to prominence, but will she be the cause or the salvation of a world marching to ruin when America and Iran go to war?
The controversial pope whose mother was a Muslim indeed harbors a secret as four people race against a nuclear holocaust to learn the true nature of the woman whose own cardinals as well as her Islamic enemies seek to eliminate her.
Featured Amazon Verified Purchase Reviews
This work is based on a sound knowledge of spirituality and history. The pace of the work is well measured, the characters become alive and believable. I throughly enjoyed reading this book, and have been talking about it to many friends. The person who recommended it to me told me to read the epilogue first, which I did, along with the end notes about the author. I think this worked well, I had a sense of time, place, and subject from the beginning. I would definitely recommend this book to anyone with an interest in spirituality and history!
this is the best book I have read in years regarding the hierarchy of the Catholic Church and the need for change. The inclusion of the feminine spirit of Christianity and examples of how that spirit can be put into practice truly inspired me.